Thanks to Exploration of Human Body (EHB) that been hosted by Super Junior, I just crumble into their feet and can't helped to watch that show over and over again @_@

And without failed I started to think that some of SuJu members reminds me to some Japanese faces.

And so.. I present you this

-just don't grab me by my collar if you don't like Korean artist and find your fave Japs artist been compared with this SuJu boys *runs*-


First victim...

Ee Teuk - Ikuta Toma - Tamaki Hiroshi

note : For Tamaki Hiroshi, it's not for is 'today' looks, it's more in his 'Water BOys' day era.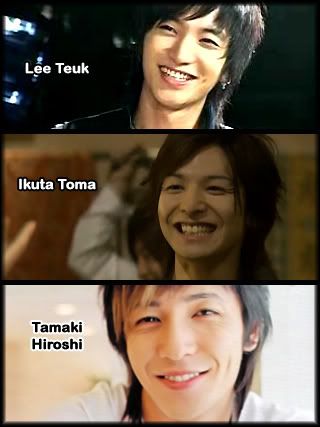 Are these guys got the same smile or is there anything else that makes me think they looks similiar? I can't really say. But I just can't look at Ee Teuk and not think on Ikuta Toma.


Next...

Dong Hae - Murakami Kohei or.. Dong Hae - Hamao Kyosuke??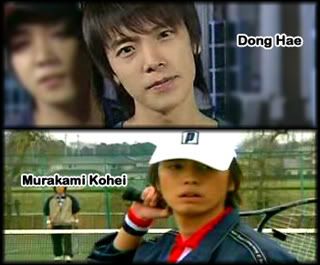 note : For BuriMyu fans.. nope, I'm not mistaken.. that guy name is Murakami Kohei, but he's the one that been played in Kamen Rider 555 Faiz -he's the Kamen Rider Kaixa guy-. Totally different with BuriMyu's Kohei.


I like Dong Hae, but sometimes I found out that his nostril is a bother. And I DON'T LIKE Murakami Kohei, also because his nostrils. Those nostrils just looking way up to the skies -_-.

But thanks GOD Dong Hae got a lot cute pose to look at instead of Murakami -_-.


Flash news :

I just browsing through my last year Hamao Kyosuke picture file, then I realized that Hamao sure looks like Dong Hae @_@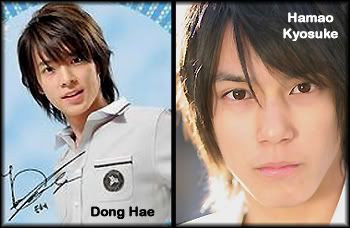 Hee Chul - Die (Dir en Grey)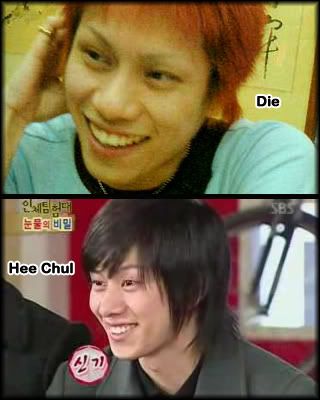 Well Hee Chul is the very first guy who looks like 'someone' I know. It's not me who found out about their similiarties. But it's a friend of my sister who fangirling Hee Chul so much -and positively poisoned me and my sister with that EHB thingie!-.

From the very first time she insisted that Hee Chul smile looks like Die, I don't agree at first. But the more I watch Hee Chul, I just became naturally agree with her opinion -sigh-


Ryeo Wook - Hojyo Takahiro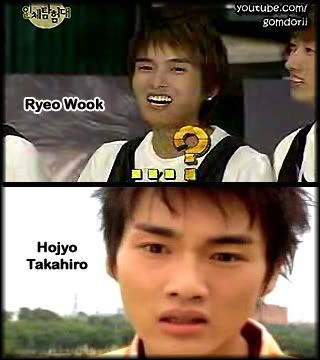 Hojyo Takahiro is the one who played as Kamen Rider Lleangle on Kamen Rider Blade. I found out that these two got a very similiar cheek bone. I guess you need to watch both Ryeo Wook and Hojyo on Blade by your own eyes then you got my point, since it's kinda hard to find a similiar pic between these two -or just say I'm too lazy to caps more Hojyo pics from KR Blade :p-

But they do share a similiar cheek bone, trust me!


Kang In - Kaji Masaki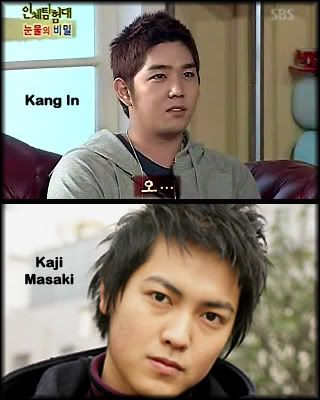 When I watch Kang In, Kaji Masaki figure just pop out in my mind. I think because both of them had this bulky figure.

I don't know.. but looking at this pic kinda make me think that they both are brothers lol.

So anyway.. my sister been requested this pic to me...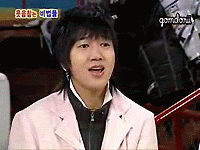 Pic of Yee Sung when he tries to explain his scary music teatcher on EHB eps. 5 (about laughing gas) -the best and the most episode that I watched, since it's never failed to make me laugh-