Ahahahah~ gara² semalem gue shocked, karena gue punya clip manusia satu ini... entah knp gue jadi nyari pic dia gitu -_- ..

Then again, I have to admit kalo lagu² dia itu enak -heu~-

[bi] bio :

Date of Birth: June 25, 1982
Height: 184 cm
Weight: 74 kg

Kenapa harus tinggi banget sih?

Well anyway.. ayo!! Gue kasih kuwis!! Tebaklah siapakah yg ada di pic.. dibawah ini eheh..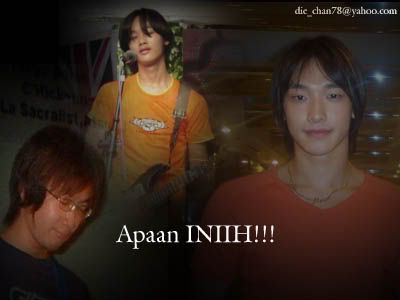 Yang jawabannya bener, berhak nonton bareng FF7AC dirumah masing²!!!
Jawaban (l-r) : Yohan (Mod8), Dimas (Garden Plot), ([bi] Rain (solo karir ahahahaha)
btw, gara² browsing soal si Rain ini.. akhirnya gue jadi tau kalo dia ternyata udah jadi model dari kecil -_- ... ga mirip Dimas kok.. ga mirip huahahaha... -ngebandingin foto Dimas pas SMA sama foto iklan si Rain-
Huaaah~ Rain sialan!! Ayo kita hunting mp3 dia..
Tapi, walo begini, tetep aja gue ga ngefans sama dia.. sama ajalah kaya' gue ga ngefans sama Takeshi Kaneshiro.. tp ngumpulin aja gitu berpuluh² pic Aniki Jin hahahaha...
Salahkan si Rain yg punya lagu enak -_- -tetep ga mau dituduh ngefans sama si Rain dodol ini-